Are you looking for a modular kitchen design, not to mention a significant investment? You can hire a professional interior designer in Bangalore for your kitchen. The design of your kitchen will be helpful for you to decide where different aspects of your kitchen will be located because of specific restrictions. For example, the sink needs to be placed near the water outlet. Since most people live in apartments, they don't have enough freedom to start from scratch and get any layout they want. The builders may decide the general shape of the kitchen. However, as much as possible, you will need to keep the Golden triangle in mind while planning a kitchen.
Modular Kitchen Designs
The 6 most common module kitchen designs are the Straight Line, L-Shaped, U-Shaped, Island and Peninsula, Parallel, and Galley. Each design has its own advantages and uses the work triangle differently.
L-Shaped Modular Kitchen Design
It is among the most common kitchen designs nowadays. The L-shaped modular kitchen design is suitable for smaller homes as it uses the maximum available floor space. This design offers maximum storage and helps you easily place a small dining table in your kitchen.
Straight Modular Kitchen Design
Like other designs, this design doesn't involve a work triangle, and the workflow depends on the straight line. This design is suitable for studio and loft apartments. It helps to keep your kitchen space to a minimum and maintains optimal efficiency.
U-Shaped Modular Kitchen Design
If you have a large kitchen space in your home, you should try a U-shaped kitchen design. This design offers the most efficient work triangle and provides the most storage space in your kitchen. Moreover, you will also get plenty of counter space. You can get budget interior designers to get this job done for you.
Parallel or Galley Shaped Kitchen Design
When you need a good space for cooking, the parallel kitchen is the most efficient design. It comes with two long working areas that are parallel to each other, and it can be split into dry and wet workspaces. It offers lots of counter space and storage.
Island Modular Kitchen Design
Many people dream of having an island kitchen design. It is a beautiful and modern design if you have enough space for it. It combines either L-shaped or straight kitchen model with an unconnected island space. You can use the island as an extra counter area or breakfast, bar counter, nook, or your favorite baking nook.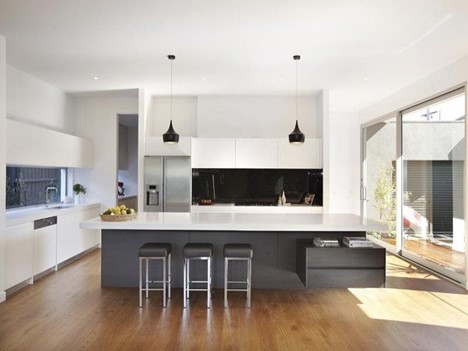 G-Shaped or Peninsula Modular Kitchen
This design is similar to the island kitchen design. This design offers a free-standing workspace that provides a secondary counter, entertainment, or work area. The peninsula is connected to the main workspace, making it available from three rather than four sides. It is usually known as the ideal design for homes having small kitchen areas. This design provides all the features you can get from an island worktop while using less floor space.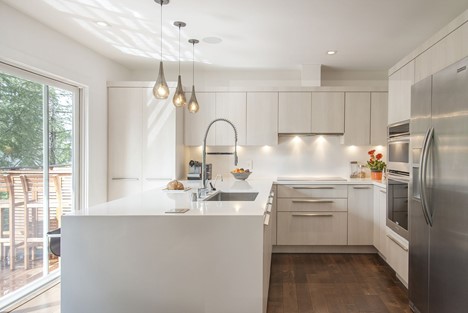 Now you know the basics of different kitchen designs, take a look at your floor plan and see which design is suitable for your home. If you are not sure, get a professional interior designer in Bangalore to help you with kitchen design. Get expert help to get the best kitchen design for your home.